The 4 best buy now, pay later apps: Pay off that big purchase over time
Discover the Convenience of Buy Now, Pay Later Apps: Shop Online and In-Person with Ease. With the rising popularity of these apps, consumers can now make purchases and pay them off over an extended period, without incurring high fees and interest rates. In today's world, where living paycheck to paycheck is a reality for many, buy now, pay later apps offer a lifeline to those who can't afford to pay upfront.
Also read: 5 Best fix-and-flip Loan Options
To help you make the best choice, we've compiled a list of our top four buy now, pay later apps. Explore our selection and find the perfect fit for your financial needs.
Affirm – Best buy now, pay later app overall
Features
Interest charged: 0-36% APR
Repayment terms: 3-12 months
Borrowing amounts: $17,500
Experience Financial Flexibility with Affirm: The Pioneering Buy Now, Pay Later App Since 2012. Affirm empowers you to finance purchases of up to $17,500 and divide them into several installments with customized repayment options. Choose between a 3, 6 or 12-month plan, or use the innovative Pay in 4 feature to split payments into four installments, with the first due at checkout and no interest charges. Trust Affirm's seamless and reliable service to help you manage your expenses and make purchases without the added stress of upfront payments. Join millions of satisfied customers and start your financial journey with Affirm today.
Empower Your Credit with Affirm's Hassle-Free Policy: Conducting Soft Credit Checks and Waiving Extra Fees. Affirm understands the importance of maintaining a healthy credit score, which is why they only conduct soft credit checks that won't hurt your credit rating. Moreover, Affirm doesn't charge any additional fees such as late fees, prepayment fees, or annual fees.
Depending on the size of your purchase, store location, and payment plan, you may pay interest, but the exact amount is disclosed upfront. Take control of your finances with Affirm's transparent approach and stay on top of your monthly loan payments to ensure a positive impact on your credit score.
Pros:
You can finance purchases up to $17,500.
No fees, including late fees, prepayment fees, or other.
You can choose from multiple repayment plans.
Accepted at most major retailers.
Cons:
Some transactions require paying interest.
Although they conduct a soft pull during your loan application, accepting the loan may impact your score.
Afterpay – Best buy now pay later app for no interest
Features
Interest charged: None
Repayment terms: 4 installments every 2 weeks
Borrowing amounts: Depends on your history with Afterpay
Discover Financial Freedom with Afterpay: The Global Buy Now, Pay Later App Founded in Australia in 2014. Afterpay has quickly expanded its services across multiple countries, including the US, Canada, UK, New Zealand, and the EU under the name Clearpay. With Afterpay, customers can split their purchases into four payments over six weeks without paying any interest, setting it apart from other buy now, pay later services. Enjoy the convenience of spreading out your payments without worrying about hidden fees or extra charges. Join millions of satisfied Afterpay users and start shopping smarter today.
Experience Effortless Shopping with Afterpay: No Credit Checks, No Late Payment Reports, and Simple Payment Schedules. Afterpay simplifies the shopping experience both online and in-store with easy payment plans that let you pay for your purchase over four installments, with the first due at checkout.
You won't have to worry about credit checks or late payment reports, as Afterpay doesn't affect your credit score. Plus, as you continue to use the app responsibly, your spending limits will increase, starting at $500. Keep in mind that Afterpay charges a fee on late payments, which may be 25% of your original order amount or $8, whichever is higher. Trust Afterpay for a seamless and rewarding shopping experience that lets you stay in control of your finances.
Pros:
Never conducts a credit checks or reports late payments.
You won't pay interest no matter the size of your purchase.
Your spending limit increases as you use Afterpay responsibly.
Cons:
A fee of up to $8 per late payment may be charged and your account is paused until current.
Each transaction is approved separately, and some may be declined.
Shorter repayment periods of only six weeks.
Klarna – Best buy now pay later app for flexible repayment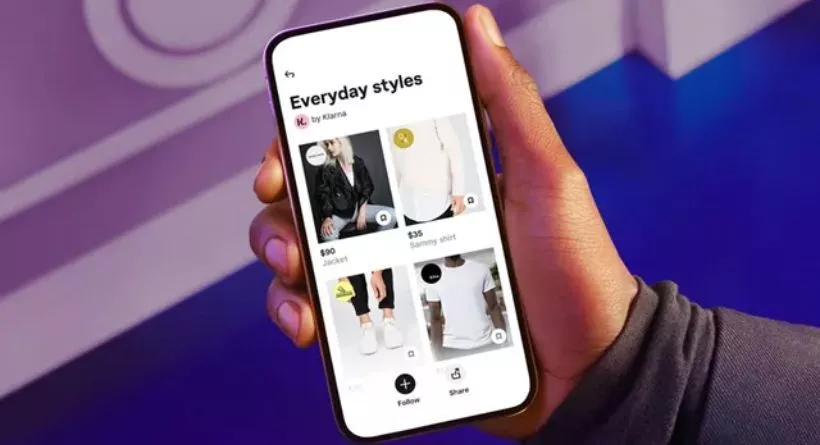 Features
Interest charged: 0-19.99% APR on financed purchases
Repayment terms: Up to 36 months on financed items, or 4 installments every 2 weeks
Borrowing amounts: Limit determined by payment history, balance owed, and credit history
Revolutionize Your Shopping Experience with Klarna: The Popular Buy Now, Pay Later App with Flexible Repayment Plans. Founded in Stockholm, Sweden, in 2005, Klarna has gained immense popularity in the market and launched in the US a decade later.
Klarna offers a plethora of repayment options that cater to your convenience and financial situation. Opt for the four interest-free payments every two weeks, or buy now and pay in full in 30 days without interest. If you need more flexibility, finance your purchase over 6 to 36 months. Klarna lets you shop without any stress or worry, so you can buy what you need now and pay later at your convenience.
Klarna conducts soft credit checks to approve you for its services, ensuring that your credit score remains unaffected. Enjoy interest-free payment options with Pay in 4 or Pay in 30, but opt for financing over an extended period, and interest charges apply. In case of missed payments, a nominal late fee of $7 per payment is levied, but it won't surpass 25% of your order value, keeping your expenses in check.
Pros:
Flexible repayment options up to 36 months.
No interest on the six-week and 30-day repayment plans.
It can be used anywhere that accepts Visa.
Cons:
A late fee of $7 for missed payments.
Potentially high-interest rates on longer financing terms.
PayPal Pay in 4 – Best buy now pay later for PayPal users
Features
Interest charged: None
Repayment terms: 4 installments every 2 weeks
Borrowing amounts: $30-$1,500
Chances are you're familiar with PayPal – the online payment giant – but did you know about its buy now, pay later option? Open to PayPal users over 18 years old with a solid account history, this facility is gaining popularity by the day. While not all retailers are onboard yet, you can use it at numerous outlets where you've already been using PayPal as your payment method.
PayPal's Pay in 4 service empowers you to divide your purchase into four interest-free installments. Simply pay the first amount at checkout and the rest every two weeks until it's fully paid. At checkout, look for the Pay in 4 eligibility tag to use the service.
Soft credit checks are all that PayPal performs, ensuring your credit score remains unharmed. The service is available for purchases between $30 and $1,500 and doesn't levy any interest on them.